Become a Sponsor
2018 Annual Sponsorship Levels and Benefits
We appreciate your consideration to become a sponsor of ASID Wisconsin. Your support is essential to growing the impact of interior design and ensuring the health, safety and well-being of the public.
This year's sponsorship benefits focus on:
• digital and print marketing (promotion via weekly e-newsletter, chapter Facebook page, WI | Design, ASID WI Chapter Magazine)
• more exclusive face-to-face time with members
• support of specific membership sectors (students, emerging professionals, professionals and more)
Pledge your support by February 23rd in order to be showcased at the annual Design Excellence Awards on March 8th using the form below.
Contact Amy Sell with questions at (920) 347-4041 or Amy.Sell@hotmail.com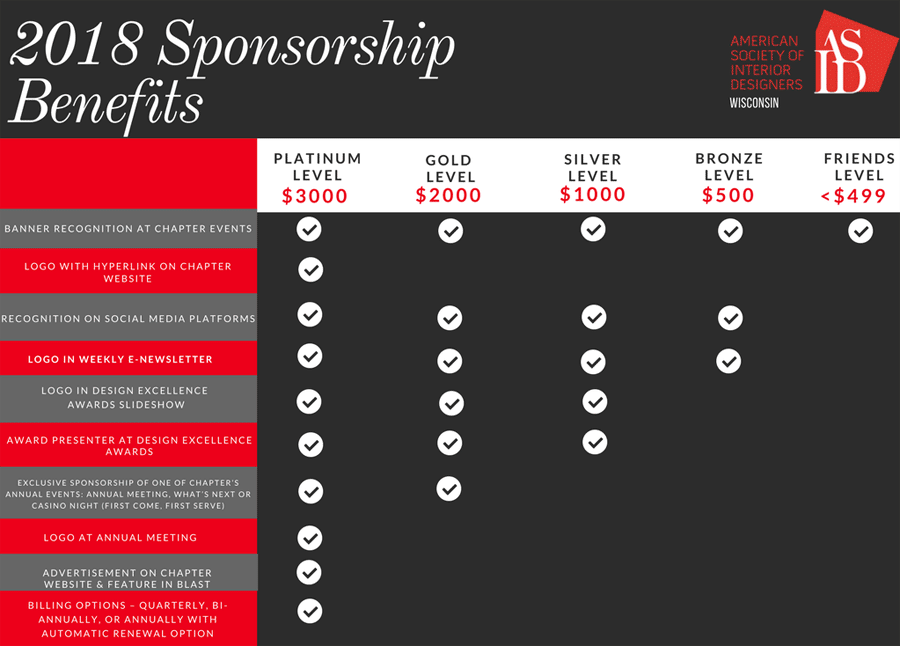 Important information:
• ASID Wisconsin Chapter Sponsors must be members in good standing throughout the Sponsorship Year (2018) (except for Friend Level).
• Payment for Sponsorship is due no later than February 15th, 2018. Checks, credit cards or Paypal payments will be accepted.
• Sponsorship is an additional cost (paid directly to the ASID Wisconsin) and is separate from ASID Membership (paid to ASID National).
• Company logo file (EPS file, 300 DPI) must be submitted with the payment.
• ASID is a 501 (c)(6) organization. Consult your tax advisor for tax deductibility.
Payments made by check can be mailed to:
ASID – WI Chapter
Attn: Molly Hooper
212 S. Oak St.
Lake Mills, WI 53551