Give a little. Receive a lot.
Dear Members,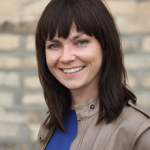 A new year marks a new beginning. It gives us a chance to stop, evaluate and redirect our focus or resources towards what's currently important.
Become a volunteer.
Have you been wanting to get involved with the Wisconsin Chapter of ASID but never knew how or have not had enough time to? Trust me when I say that you just have to do it. Volunteer opportunities are diverse (between tasks, length of commitment or level or responsibility) and countless. We will work with you to identify the best fit. In the month of January, we are hosting volunteer socials to give members a chance to sign up for volunteer opportunities in a very casual, social atmosphere. We already hosted one in Milwaukee, and are organizing another social in Madison today. Join us. Join a committee.
Become a sponsor.
Have you considered sponsoring us? Our chapter relies on the time commitment and skill of our volunteers and even more importantly, on the financial contributions of our sponsors to continue our programming and remain the strong, innovative chapter we are known to be. Without our sponsors, many wonderful ongoing initiatives would simply not be possible. We are grateful and excited to see a number of new sponsors rise up to the challenge and support us in 2016. Will you be one of them? The sponsorship drive ends Jan 31st.
What do you get back?
In exchange for your time, skill or financial support, you will experience the magic of the ASID family. Join a committee and you will quickly start seeing your network expand, your name will be recognized and your confidence level will increase. Your collaboration and leadership skills will grow and your personal brand will strengthen. Our chapter sponsors receive a lot of love as well!
The benefits of membership and involvement in a volunteer organization are often intangible and deeply personal. And as such, they tend to vary per member. You will never know the potential, unless you try. This year, I challenge you to give.
Aga Artka, ASID, NCIDQ, WRID
Wisconsin Chapter President