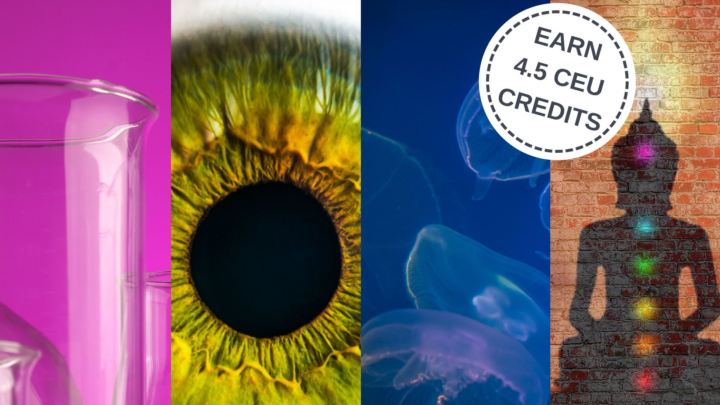 WHAT'S NEXT? 2019 BIO + DESIGN 4.5 CEU
Description
ASID WI What's Next? annual events are inspiring, forward-thinking discussions revolving around global trends & issues that affect the design of our workplaces, buildings, infrastructure, systems, as well as addressing the needs of personal and professional growth for individuals.
What's Next is an annual mini conference event that challenges our thinking about the future of design. Today's designers are asked to wear many hats, to be innovators and collaborators. This year, we explore fascinating topics at the intersection of three disciplines: biology, technology and design thinking.

Whether informed by ancient design methodologies, newest research in psychology or ground-breaking technology, design is about problem solving while creating harmony for people, products and places. Come learn with us!
DOWNLOAD THE INVITATION & SCHEDULE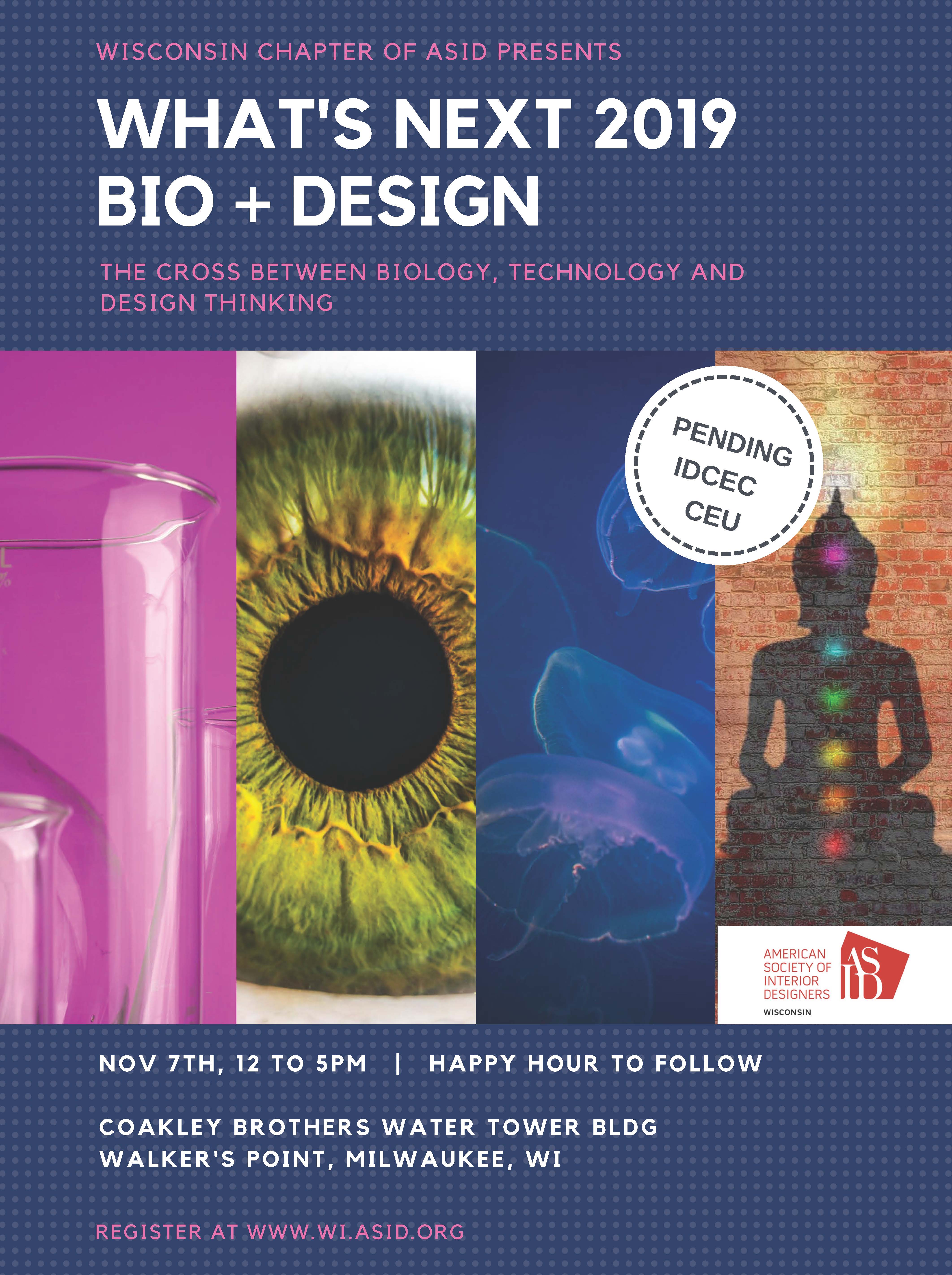 RSVP to the Facebook Event for Updates
---
SPEAKERS
Ariel Steuer, ASID
Ariel Steuer, ASID, NCIDQ has 12 years of experience as the lead interior designer at The Kubala Washatko Architects, where a design philosophy of Wholeness is practiced, in which the built environment supports and enhances both human activity and natural living systems.
With an overarching concern for how people are affected by the built environment, her goal is to integrate regenerative & living practices into spaces for the healing of people and planet. As a lifelong learner who is always diving deeper, Ariel is guided by practical & established methodologies for bringing wholeness to the forefront. By synthesizing various fields of study, she connects the dots to illustrate how human health & wellbeing is interconnected with the quality of our natural & built environments, resulting in new perspectives for approaching how we design buildings and spaces.
---
Aubrey Poglajen - LAc, MSOM
I've always been a deep diver in my life. As a small child I was born into a lot of trauma, and recognized at a young age that I was able to control my environment based on how I chose to interact in the world. As I look back on my 34 years, my empathic ability to read emotions and morph myself to my surroundings has become a tremendous gift to share with the world. I have spent the last decade deeply studying the effect of trauma and emotions, and how they impact every part of our vitality. I have walked myself through tremendous layers of emotional and trauma healing with the assistance of the therapies I now offer to the community. I am forever grateful for my mentors Dr. Tan, Dr. Upledger, Ra Uru Hu and Dr. Springob for their tenacity to bring their therapies to the world, and to teach others on how to facilitate the process of healing with their modalities. Using the combination of Acupuncture, CranioSacral Therapy, SomatoEmotional Release, Morphogenic Field Technique and Human Design, I have learned how to facilitate and navigate patients to their truth. Every therapy I offer is focused on empowering the individual to understand themselves on a deeper level, and to learn the process of selflove and self-acceptance. One of my greatest passions is empowering women to harness self-love and self-care prior to conception, and supporting them through the entire pregnancy, birth and mothering process. My son has been one of my greatest blessings in my life to recognize how important it is for women to be in their power before entering into motherhood. He and I have journeyed through tremendous healing together, as when I conceived him much of my childhood trauma surfaced to be seen and cleared. We have ventured through tremendous ancestral healing together and because of our journey I have a deep understanding of how to compassionately guide others through the process. My focus is to be gentle, and to teach each person I work with how to listen to when the body needs love and attention, and to choose to act on those needs to keep a state of well-being. Our children are a reflection of who we are as mothers, and to me it is so important to honor the gift of what it is to be a mother through prioritizing ourselves. It would be my pleasure to support you along your journey.
---
Carol Derby
Carol Derby is Vice President, Research and Development for Designtex, a Steelcase company advancing the design and engineering of surface materials for commercial interiors. Carol programs actionable developments that bring added performance and significance to applied materials for commercial spaces. She also researches disruption in the design industry to inform better engagement with A&D. As a prior President of the Association for Contract Textiles, Carol championed the creation of a sustainability standard for the industry. She has taught in the Sustainable Interior Environments graduate program at New York School of Interior Design. She began working on a Celliant contract seating platform for Designtex in 2014.
---
Karen Schloss
Karen Schloss is an Assistant Professor at the University of Wisconsin – Madison in the Department of Psychology and Wisconsin Institute for Discovery. Her Visual Reasoning lab studies how people interpret meaning from visual features, with the goal of making visual communication more effective and efficient. With a primary focus on color, her lab addresses fundamental questions in information visualization, visual cognition, and aesthetic response. They also develop educational tools in virtual reality (VR) to help make science more accessible and engaging. Dr. Schloss received her BA from Barnard College, Columbia University in 2005, with a major in Psychology and a minor in Architecture. She completed her Ph.D. in Psychology at the University of California, Berkeley in 2011 and continued on as a Postdoctoral Scholar from 2011-2013. She spent three years as an Assistant Professor of Research in the Department of Cognitive, Linguistic, and Psychological Sciences at Brown University before joining the faculty at UW–Madison in 2016.
---
Sallie Ann Westbrook
I have been with Global Furniture Group, serving as Business Development Manager for the Chicago area, since 2017. In addition to general corporate opportunities, I focus on Global's education and health care initiatives. Prior to joining Global, I worked for other major manufacturers and prior to that, as an interior designer for commercial, residential and hospitality sectors.
My education includes BA degrees in Interior Design and Southern Cultural studies, and an MA in Art History. Currently, I am earning a certification in Innovation and Entrepreneurship through Stanford University's D.School, with a focus on ideation and market strategy.
Locally, I enjoy serving on the Professional Development Committee of CREW Chicago, and the Health Care Knowledge Community for AIA Chicago. I'm also involved with the downtown chapters of IFMA, Chicago Women in Architecture and CoreNet. I'm also an advisor for Chicago Jr. League and volunteer at Vital Bridges Food Program.
---
Sarah Eichhorn
Sarah is a fiber artist and sustainable living advocate based in Milwaukee, WI. She received her BFA in Fashion Design from the International Academy of Design and Technology in Chicago and her MFA in Costume Design from Florida State University.
Sarah is drawn to creating pieces of art that utilize natural colors and fibers while pushing herself towards zero waste with her materials. She has led various workshops on natural dye and eco-printing techniques, as well as facilitated lectures on sustainable fashion. Through her personal practice, Sarah hopes to inspire others to consider where their coloring comes from and how we can collectively become more invested in the clothes we wear.
Aside from her formal fashion and costume background she is also an avid urban gardener and homesteader.
---
Beth McGrew
Beth's professional experience includes interior design, sales, sales leadership, strategy and product development. Throughout her 20+ years in the industry, she has cultivated manufacturing and product specialties in coverings, architectural products and healthcare furniture at iconic, design driven brands including KnollTextiles, Maharam, Spinneybeck and Global. Beth now leads the Central + South sales team as EVP of Sales + Business Development at Carnegie