Member Spotlight
May 2020
Our May Member Spotlight is on Leah Ogden, ASID Associate. She has been in the interior design industry for over eight years.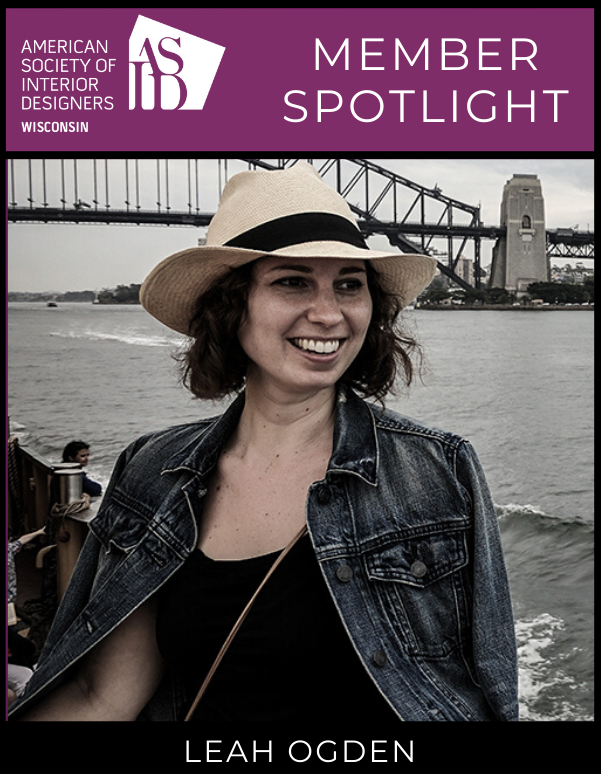 What made you decide to pursue an Interior Design career?
For as long as I can remember, drawing was one of my favorite hobbies and as I got older, I began to be interested in design and architecture as well. However, I never liked math in school and decided that architecture had "too much math" so I dropped the interest. I also was really into decorating and organizing my rooms as a young adult and into college as well but never thought much about it. It was just something I liked to do.
After pursuing a career in communications at various marketing/PR firms in New York in my early-mid 20s, I realized that I was missing a sense of creativity in my profession. I found an interior design program at Parsons – The New School for Design and decided to go back to school. I realized that those passions for design and architecture mixed with my drawing skills and communications experience made for a perfect career! And I had to suck it up with the math..it's a huge part of an interior design career!
What type of design are you passionate about?
I started my career in residential design in New York and began to tackle smaller hospitality projects when I moved to Chicago in 2015. Now having moved back to Milwaukee, I was presented with the opportunity to design the amenity spaces for senior living community. While I never previously had an interest in senior living design, it actually is a blend between my residential and hospitality experience! Plus it has a personal touch for me as I have a family member living in one of these facilities.
What do you love about design?
There are no limits! Except for budget – which is usually the biggest limiting factor. I do love the challenge of designing on a budget – how do get the biggest bang for the smallest buck.
How has being a member of ASID helped you in your career?
The access trade programs has been the biggest benefit I've found so far with my ASID membership. I also have started to receive inquiries about potential jobs from people who have searched the directory and found me there.
What do you like to do in your spare time?
My husband and I just had a baby girl in December, so she is keeping me busy in my spare time!! I also enjoy photography and browsing the many record shops here in Milwaukee!
MEMBERS SPOTLIGHT ARCHIVE