Member Spotlight
October 2019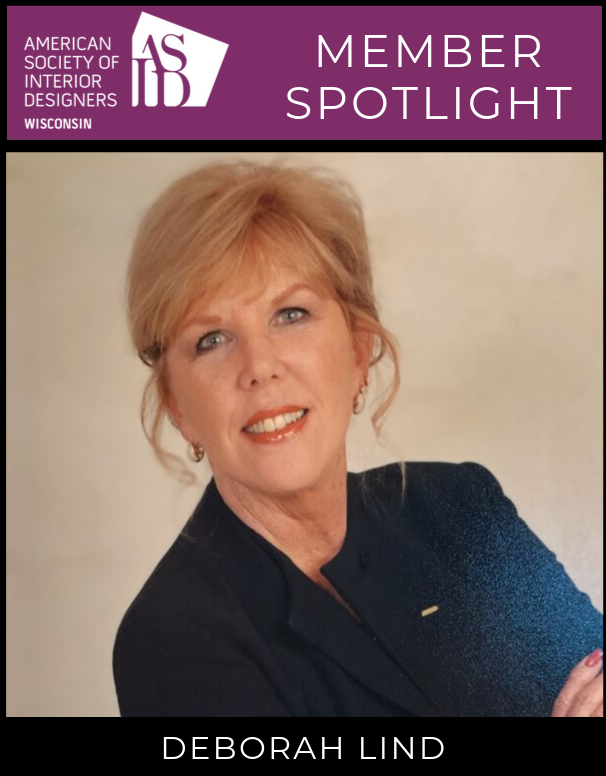 Our October Member Spotlight is on Deborah Lind, ASID of Lind Interiors in Elkhart Lake, Wisconsin. Deborah has been in the interior design industry for 54 years. She graduated from UCLA School of Design and worked for several interior designers before opening Lind Interiors in 1974. You can connect with Deborah on LinkedIn here.
What made you decide to pursue an Interior Design career?
I was always fascinated by the building process, design, architecture and interiors.
When entering the University they had a Bachelors Degree program in Interior Design. I graduated
with a BA in 1965
What type of design are you passionate about?
Residential and remodel design are foremost in my interests.
What do you love about design?
The creative process. I enjoy visualizing the spatial relationships and creating an
environment sensitive to my clients aesthetic goals and needs while maintaining careful Attention
to technical materials and details
How has being a member of ASID helped you in your career?
The leadership training over the years from ASID I used when serving as Women's
Council President and on the Senior Housing Council of the California State Building Industry
Association. I have also chaired committees in Los Angeles ASID Chapter and as President of the
Indiana ASID Chapter.
It gave me an opportunity to serve on the Interior Design Certification Board for the State of
California and well as Serve as a Mayoral Appointee to the Senior Housing Council in Los Angeles,
CA.

What do you like to do in your spare time?
Play golf and do landscape designing.
MEMBERS SPOTLIGHT ARCHIVE