The Leadership Experience


It was with anticipation that I traveled for board leadership training on July 13th, this year in sunny San Diego. Formerly known as the Chapter Leadership Conference (CLC), The Leadership Experience was created to combine the quality & content of ASID's other annual conferences, namely, GO PRO and Design to Lead. The experience was open to all practitioners in the design community, from students to seasoned professionals.
I was especially looking forward to the event because, for the past several months, my mind has been buzzing with thoughts and ideas of what to bring to our Chapter as incoming President. With so much change & transitioning taking place in the world, in our country, in our profession and likely in our lives as well, I have been ruminating on what positive change can I help foster for our members and partners. Fortunately, attending quality events like this is re-energizing and inspiring, and this conference was no exception. The breadth, depth, and quality of content was fantastic — including workshops geared towards leading one's firm, to personal professional development, to the needs of students & emerging professionals looking to grow into their careers, as well as current and emerging trends within design and design practice.
It is within the context of the past and the ever-changing present that we shape the future. With this and the unyielding trend of health & wellness in mind, it is easy to see how something such as the WELL Building Standard came about, being the first building standard to focus exclusively on the health and well-being of building occupants. Having announced a partnership with the International Well Building Institute last year, ASID designed wellness into the daily experience for conference attendees. Extended lunch breaks allowed for cross-chapter networking, recharging or checking in on a busy office back home. Meditation and yoga were also offered, as well as healthy meal & snack options — including easy access to the beautiful weather outside— that were influenced by the WELL Nourishment concept. No doubt that these gestures will influence future event planning considerations for the Chapter leaders present.
The Leadership Experience was also an opportunity for the incoming 2017-2018 Wisconsin Chapter Board to come together to begin exchanging ideas and learning to work together as a team. In the time we had together, what was most apparent to me was the passion each person has for what they do and their commitment to being actively involved in both finding creative solutions and to enhancing our membership experience. We truly have a dedicated and talented group of professionals representing our state chapter.
Finally, what really hit it home for me was the continuous theme of ASID's maxim,
"Design impacts life."
This is not a string-pulling sentimentality. It is not fluff, nor is it grandiose. It is reality. It is truth that we see, and experience, and create every day, as both designers and building occupants. It distills the essence of what we do, in so few words but in the broadest sense. This is why we as designers exist. If not for this impact, what we do as designers — no matter our specialty or area of practice — wouldn't be the thing that touches every aspect of our economies, our communities, and our collective experience.
Design impacts life. Design impacts lives.
This is the magnitude of our potential and our influence, as well as our responsibility, to enhance the human experience and influence the design industry.
Let that sink in.
As Charisse Johnston, ASID National Chair, stated in the State of the Society on July 15th:
"…what we do as designers impacts lives. It's not just about looking beautiful… but we use that beauty and what's beneath it to improve people's lives. Our value lies not what's on the surface, but in the thinking that goes into every single design decision that we make."
A client and friend once said,
"Buildings are simply the result of a million different decisions."
While we may not see the full extent of the effects that our design decisions have on people's lives down the road, or how they influence the trajectory of a company or a community, what you do as a designer matters every day nonetheless. It is so important that we communicate this to everyone we encounter, especially to those who may confuse what we do with what they see on TV.
My challenge to you is to see your design decisions through the lens of Design Impacts Life, and to demonstrate the impact of what we do, every day.
Be the change,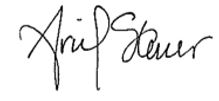 Ariel Steuer, Allied ASID
ASID WI President-Elect
Please click HERE to view photos from The Leadership Experience!