The Path to Professional Status
A Wisconsin Registered Interior Designer (WRID) is a WI ASID Professional member that, having passed the National Council for Interior Design Qualification Certification (NCIDQ), has successfully registered with the State of Wisconsin Department of Safety and Professional Services, and follows the various laws, rules and regulations as laid out in the Wisconsin Administrative Code of the State of Wisconsin 440.96 Subchapter X Interior Designers.
With you as a WRID, we will have a stronger, larger group and a bigger voice, with the ability to specifically identify the profession of Interior Design as having a critical role in the code-regulated building environment, to have the complete freedom to practice, to speak for our profession, and to one day accomplish larger legislative goals as has been achieved in other states.
We encourage every ASID member to understand the importance of WRID, to have the ultimate goal to become WRID and to have knowledge of the steps in the process, so we have outlined them here: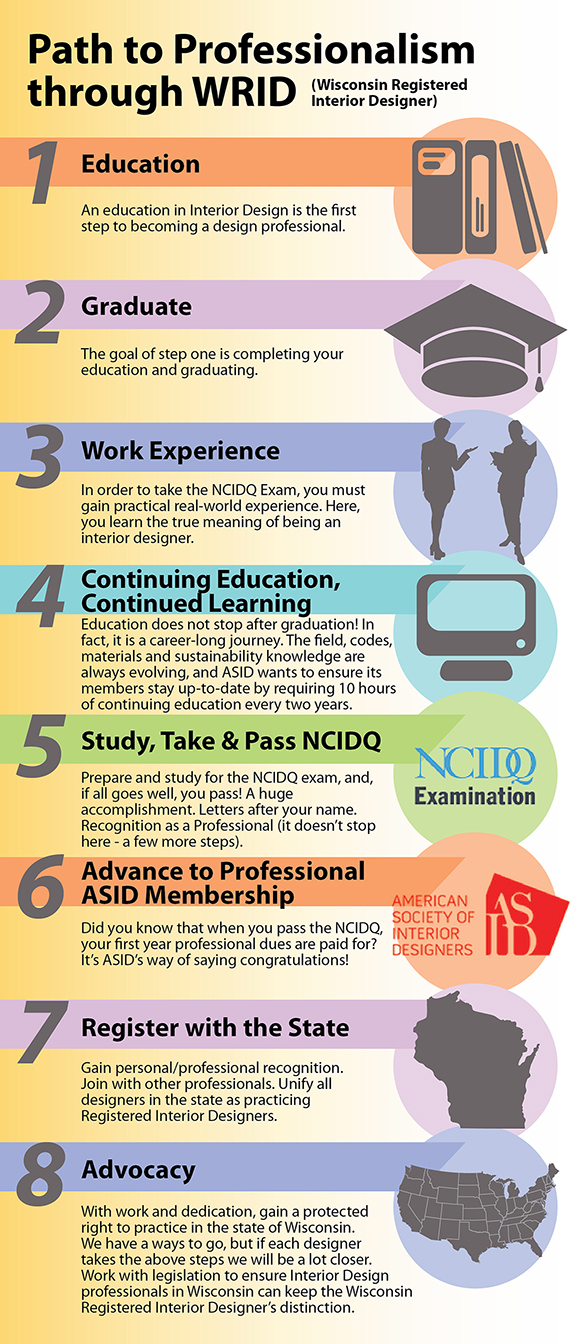 What does it mean to be a Wisconsin Registered Interior Designer (WRID)?
The WRID bill passed and was signed by Governor Tommy Thompson on May 2, 1996, due solely to the hard work of WI ASID members, as the only professional organization for Interior Designers at that time.
This law grants the use of the term and WRID appellation to qualified individuals, designating their specific knowledge to practice in a code-regulated environment. The law does not keep other Interior Designers from practicing, but they may not call themselves a Wisconsin Registered Interior Designer.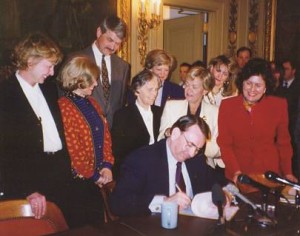 A firm with one or more WRID may call themselves a Wisconsin Registered Interior Design Firm. We encourage all WI ASID Professional members to become a WRID. It is easy to do and important to our profession. We need you!
The initial fee to become a WRID is $75. Renewals are $107. Renewal is required by July 31 of even numbered years. .9 CEU hours are required for renewal. 1.0 hours are required every two years to maintain your ASID Professional status. These can be the same CEU hours.
To read more about the WRID, the State of WI Administrative rules, and to apply or renew as a WRID , go to the Wisconsin Department of Safety and Professional Services.
To learn more about registration of Interior Designers, visit the ASID website Advocacy section.
As of today, 27 states have some form of legislation. In some states, like Georgia, the Registered Interior Designer may stamp their own drawings if they do not include structural changes. Other states allow for permitting of your drawings. See the color-coded map below.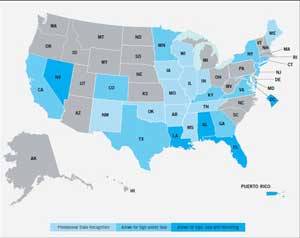 Interior Design Coalition of Wisconsin (IDCW)
State legislative coalitions are the unified advocacy organizations for interior designers practicing in a state. These organizations and the board represent and is made up of professional members from ASID, IIDA, and independent interior designers that have passed the NCIDQ. Wisconsin coalition was established in January 27, 1988, by members of WI ASID. Coalitions serve a vital function of bringing different groups of interior designers together to advocate for their design issues at the state level.
Membership in the IDCW is separate from ASID and the WRID. The purpose of the Coalition is to monitor and keep us informed of legislative issues that may affect our ability to practice our profession.
The IDCW is currently undergoing an important organizational renewal, with new officers, improved mission and stronger strategic plan, with WI ASID members leading the way. Membership is not available at this time. Revisions to bylaws and other key items are taking place. The goal is to elect a new board in the upcoming year.