Government Affairs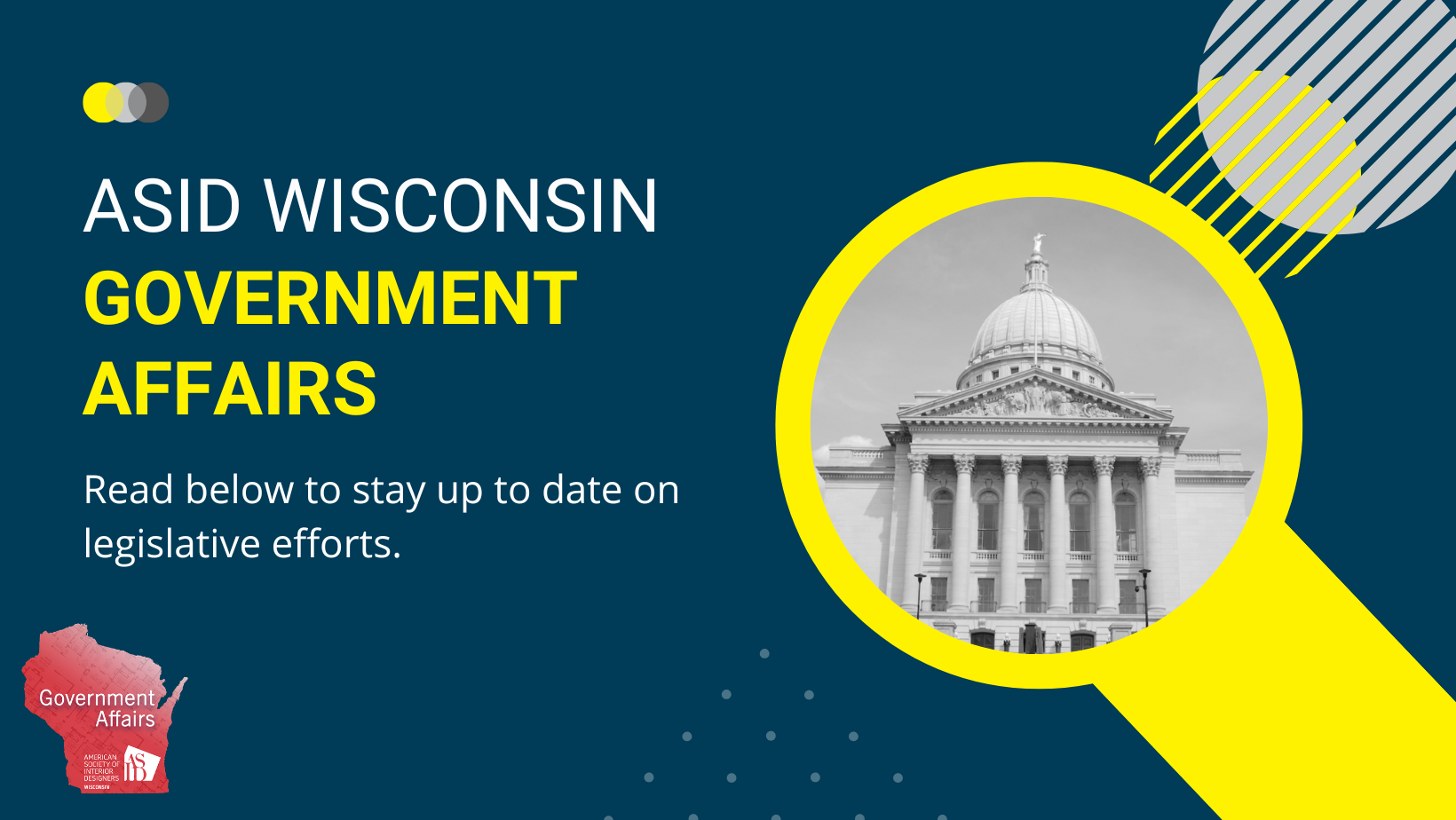 ---
What's Happening Now and Next?

Through the efforts of ASID members throughout Wisconsin, ASID national leadership, ASID Wisconsin chapter advocates, and in concert with IIDA Wisconsin and IIDA and interior design allies, we passed our bill into law with Governor Evers signature as of March 18, 2022! We have celebrated the historic win, but now what? When can Wisconsin Registered Interior Designers (WRID) actually sign and seal their own code-compliant, non-structural documents and submit for permitting? Here's what is happening now and next.
Even though the law became effective once signed by the governor, Wisconsin does not currently have the regulatory structure in place to implement the new law. That's where the administrative rules process comes into play – as the first step. These administrative rules and regulations may include such items as the design and availability of application forms for individual WRIDs and firms, the design of the stamp, etc.
Setting up for the Administrative Rules Process
1. The governor appoints three interior designer nominees to the Examining Board of Architects, Landscape Architects, Professional Engineers, Professional Land Surveyors, Designers and Registered Interior Designers. New rules may not be adopted by the Board until three interior designers are appointed. ASID Wisconsin and IIDA Wisconsin submitted a joint letter of recommendation naming three nominees on April 29, 2022 – but await the official appointment of the recommended individuals.
2. The governor must also appoint two "public" members. Although several individuals have applied, ASID Wisconsin awaits official appointment of these prospective public members.
3. Once the interior designers and public members are appointed, the administrative rules process could take up to 18 months to put into place.
What's happening in the meantime?
1. ASID, IIDA, CIDQ, the ASID Wisconsin Governmental Affairs Committee, lobbyists, and other advocates and practitioners will continue to convene to start prioritizing Wisconsin specific issues that may become part of the administrative rules process. ASID advocates in North Carolina have offered support, since that state passed stamp and seal legislation in 2021 and is farther along in the administrative rules process.
2. The preparation of training sessions and educational webinars is in the works. The Government Advocacy Committee, in conjunction with other ASID Wisconsin Chapter committees and leadership, is planning the annual advocacy event in November 2022. Stay tuned for more information.
3. Advocacy does not stop! Through this process, we have learned that we must continue advocating for ourselves and our profession and must stay alert to any bill that threatens our right to practice. Grassroots advocacy is an ongoing process and is an integral part of our chapter.
What can YOU do as a member?
1. 2022 is an election year. There will be 30 new state legislators being voted into office this coming November. Get to know the candidates, both new and incumbent legislators.
2. The legislators who are currently in office and are running again will likely be re-elected. Consider donating to their campaign, noting your thanks for their support of the interior design profession, and sending wishes for success in the upcoming election.
3. Help out in a campaign by volunteering to knock on doors or make telephone calls or any other volunteer activity that appeals to you.
4. By volunteering, voting and staying in touch with legislators and candidates, we can continue to bring awareness to the importance of the interior design profession and help avoid future threats.
5. Be sure to attend training sessions and educational opportunities. To prepare for your future, start learning about or refresh yourself on submittal requirements and the permitting process.
---
Reference Documents & Frequently Asked Questions (FAQs)
These reference documents and FAQs were created to provide answers and to clarify the issues surrounding the proposed sign and seal legislation for interior designers in the state of Wisconsin. If you have other questions, please email administrator@wi.asid.org.
ASID National Publications:
Effects on the Interior Design Profession & Wisconsin
Interior Designers & Their Impact on Public Health:
Signing, Stamping, or Sealing for a Project Permit:
Education, Experience, & NCIDQ
Who Can be a Wisconsin Registered Interior Designer (WRID)
The Interior Design Profession & Prior Legislation
Who to Talk to & How/ Government Affairs Ambassadors
​
If you have other questions, please email administrator@wi.asid.org.