Government Affairs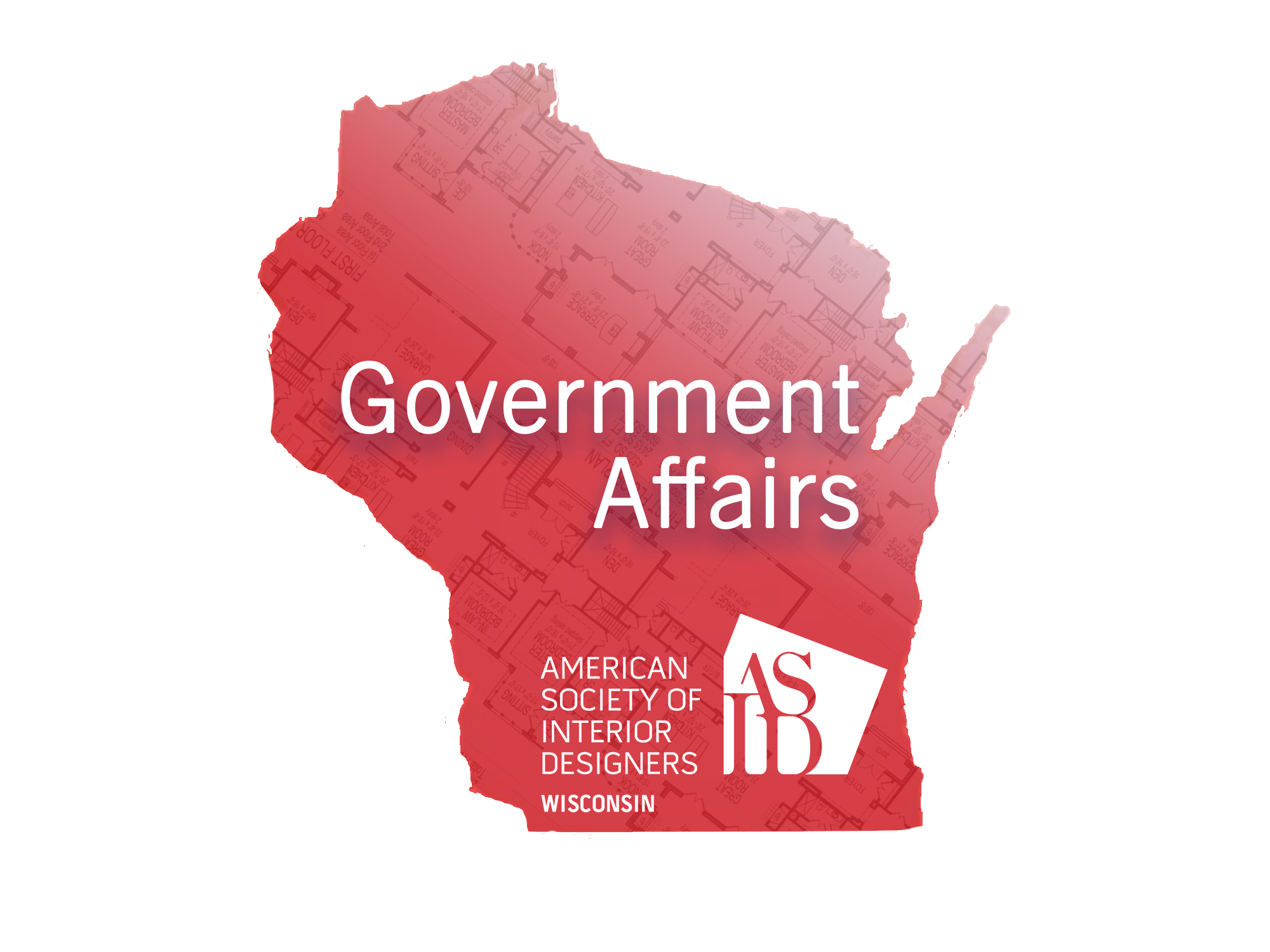 Advocacy is using your voice as an interior design professional. Through letters or emails to your legislator, using Phone2Action texts, joining in at meet and greets with legislators to tell your story, talking to allies in the field of interior design, or attending/testifying at hearings, you can make an impact on the law.
In Wisconsin, we are proposing legislation as an amendment to the 1996 legislation that will allow stamp and seal privileges in order to submit plans for a project permit. 1996 saw the passage of legislation to allow for interior designers to voluntarily register as professionals with the state of Wisconsin after completing the necessary requirements including passage of the NICDQ exam.
Please use the resources provided on the website to help interior designers gain the benefits of their knowledge and education to improve the profession of interior design and ultimately make a difference in the lives of all people
What's Next? What can you do to help?
Do you want to be a part of the Government Affairs committee? We have an energetic and engaged group and we are looking for more Government Affairs ambassadors to be part of the core team.
If you don't already know what your legislative district is or who your representatives are, then you can start here Find Your Legislator. The critical part of the process is to stay in touch with your legislators! Invite them to your office or a project using a virtual tour. Schedule a virtual meeting at their office to tell your story to either them or a staff person or simply write a letter sent via email to explain your support of the legislation and tell your story.
These very representatives continually let everyone know that they are ordinary folks too and they want to hear from you. When it is time to ask for their support, they will know your name and face.
Do you have questions about Government Advocacy, the wording of the bill, the next steps in the process? You can email administrator@wi.asid.org with 'I have a question for the GA Committee' in the subject line. Also, follow social media postings and email blasts to stay current for the full Government Affairs experience.
Reference Documents & Frequently Asked Questions (FAQs)
These reference documents and FAQs were created to provide answers and to clarify the issues surrounding the proposed sign and seal legislation for interior designers in the state of Wisconsin. If you have other questions, please email administrator@wi.asid.org with 'Dear Deb and Bill – FAQs' in the subject line.
ASID National Publications:
Effects on the Interior Design Profession & Wisconsin
Interior Designers & Their Impact on Public Health:
Signing, Stamping, or Sealing for a Project Permit:
Education, Experience, & NCIDQ
Who Can be a Wisconsin Registered Interior Designer (WRID)
The Interior Design Profession & Prior Legislation
Who to Talk to & How/ Government Affairs Ambassadors
​
If you have other questions, please email administrator@wi.asid.org with 'Dear Deb and Bill - FAQs' in the subject line. ​