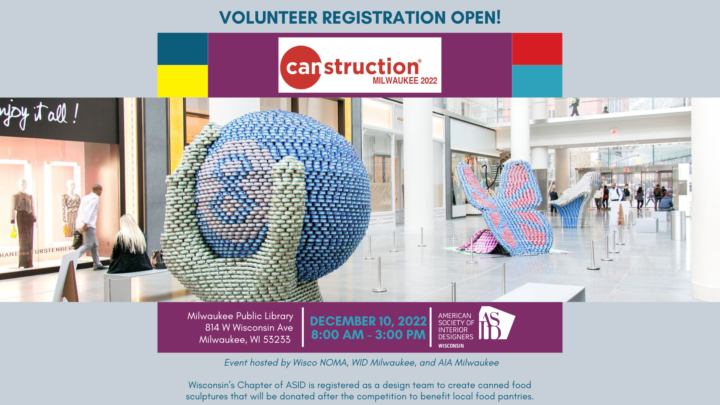 CANstruction Milwaukee: Team ASID Wisconsin
Description
About this event
Wisconsin's Chapter of ASID is registered as a design team to create canned food sculptures that will be donated after the competition to benefit the JCC Milwaukee and Jewish Pantry. All cans are then donated to local food pantries.
Teams create CanArt® to compete for awards in the following categories: Best Meal, Structural Ingenuity, Best Original Design, Most Cans, Best Use of Labels, and People's Choice awards.
DESCRIPTION
Team Design Submission Due: November 30
Sponsorship Registration Closes: December 7 at 5PM
Build Day: December 10, 2022 8:00 am – 3 pm
Location: Milwaukee Public Library – Central Branch, 814 W Wisconsin Ave Milwaukee, WI 53233
Join team ASID Wisconsin as we embark on this friendly competition for a cause! You do not need to be an ASID Wisconsin member to volunteer and participate in this event. Sculptures will be displayed until January 2023 with an awards ceremony in mid-January [date TBD].
Canstruction® is an international hunger relief charity that raises millions of pounds of food each year for local food banks. This year AIA Milwaukee + Wisco NOMA + Women in Design Milwaukee are partnering to host an event in Milwaukee.
Additional competition winners and more information on the cause can be found here: https://www.canstruction.org/
Anyone who would prefer to make a large, canned food / non-perishable food item(s) donation please reach out directly to Brianna Arpy, Membership Director at to coordinate. Any additional questions regarding the competition can be directed to her. membership@wi.asid.org