2016 ASID Awards Article
ASID Awards Article
Celebrating the Language of Design: The 2016 Wisconsin Chapter of ASID Design Excellence Awards
Click HERE to view images from our Award Winners!
The Wisconsin Chapter of ASID held its annual awards event on Thursday, May 23, 2017, at Discovery World in
Milwaukee. With 300 people in attendance, the evening started with appetizers and beverages in the
Aquarium and Great Lakes exhibit area. The group moved upstairs to the Pilot House with its breath-taking
views of Lake Michigan for a short program, dinner, and the evening's awards.
Amy Sell ASID, President of ASID-WI, began the evening's program with a welcome to all in attendance. Amy
talked through details about the chapter, recognizing our annual sponsors and board members. Amy also
honored our Student Award judges, Korb + Associates Architects. This year, 10 student awards were
submitted (9 commercial and 1 residential). Amy also spoke about our professional judges, Glenn Gissler
ASID, AnnMarie Jackson FASID CHID EDAC, and Melissa Moseley CID ASID Leed AP. This group was brought
together for hours of dialogue and conversation regarding the 54 submissions to this year's Awards Team (48
Contract and 6 Residential).
Following Amy's welcome presentation, past president Bill Beadreau ASID honored ASID-WI chapter Fellows:
Gene Potente FASID, Marilynn Schall FASID, Bill Manly FASID (all deceased)
Hollie Schick FASID, Sandy Gordon FASID, Pat Kluetz FASID
Bill also honored the life and career of Harriet Weiss ASID. Harriet passed away during the prior year,
following 50+ years as an Interior Designer and strong supporter of ASID-WI and its predecessor NSID. Her
tireless advocacy and support will be missed.
Ambiance was provided through many in-kind donations. Textile manufacturing representatives donated
beautiful fabrics to three ASID-Student chapters. The students and instructors transformed the fabrics into
roses of different styles at each table. Dinner was served and catered by the Bartolotta's Catering team.
Dessert and coffee was sponsored by carpet and tile manufacturing representatives. All-in-all, the community
came together to provide wonderful food, design, and color as part of the evening's events.
The theme for this year's awards was based on the inspiration of "The Language of Design". This theme was
meant to embrace an aspect of interior design professional practice, which is the language that interior
designers employ to articulate the design process. Language can be a barrier or a commonality, with the
message of the theme to celebrate the common language of designers – the universality of language that
brings us together as an inclusive, open and collaborative community. Thank you to Leah Knox for her vision.
This year's co-chairs, Jim Olson AIA NCARB and Carole Syse, were introduced by Amy Sell to begin the awards
presentation. Carole introduced the committee and thanked them for their service and hard work: Leah Knox
NCIDQ ASID WRID, Bill Beaudreau ASID, Kelly Sullivan, and Marie Tock. Jim talked through the awards and
judging procedures and then the awards were presented.
Of the ten student awards submitted, two awards were given out along with scholarship checks for those
students:
Student – Contract Gold ($500.00)
Stephanie Songster, Madison College
Project: Ideaspark – A Marketing Frim
Student – Contract Silver ($250.00)
Stephanie Lang, Madison College
Project: Ideaspark: creative branding innovation
With 54 professional submissions, 34 awards were presented by Gold and Silver chapter sponsors. The
following were the winners by category: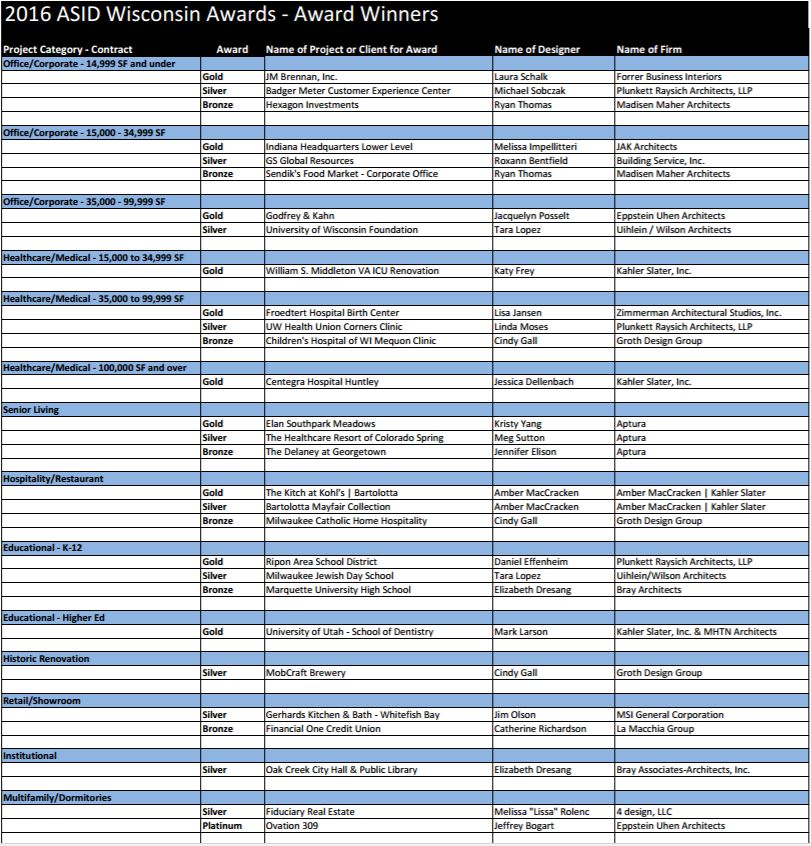 The Awards Committee would like to thank the ASID-WI Board, the sponsors, all the volunteers and the entire
design community for their impressive creative work. We celebrate together as we collaboratively work daily
on The Language of Design.
Respectfully submitted,

Carole Syse
2016 Awards Co-Chair